Australian's tend to keep their ugg original products for years, so it's important to make sure they are well protected against weather conditions.
Whether there's raining, or sunshine, the team at Shearers UGG  want you to stay comfortable and enjoy your sharers ugg boots without living in fear they are going to be damaged.
With all the rain battering all across Australia during winter, we are reminding are loyal clients about the resilience to uggs in wet conditions.
One of the most common question our clients ask: "are ugg boots waterproof?"
While many Shearer ugg boot styles are water resistant, they aren't 100% waterproof. Sheepskin is a resilient material, it is not immune to water damage, hence we treat the raw hides with 3M water resistant protector, but there's more you can do to add protection. 
Sharers UGG have proactive steps you can take to protect them against the rain and keep them looking brand new all season long.
We cover some basic tips to help you in this blog to keep your uggs looking new and fresh for years to come.
#1. Keep them clean using a specialist sheepskin care kit
Care kit has a complete kit of everything you need to easily and safely clean your beloved ugg boots. It includes:
Cleaning Spray & Detergent to clean your ugg boots and protect them from mould and mildew.


Water & Oil Repellent to protect your shoes from the nasties of the outside world.



Multi-Purpose Foam cleaning sponge to help you remove stains quickly in between cleaning.
Shearers ugg recommends cleaning your boots using products are made from natural ingredients including tea-tree oil which is antibacterial and biodegradable, removing signs of mould and mildew from your precious uggs. 
For suede boots, use our Multi Purpose Suede Ugg Brush to remove unsightly dirt. Make sure you brush the boots in the same direction for the best result.
#2. Say "no" to the washing machine 
The worst possible thing you can do to your uggs is put them in the washing machine! WHY? clothing detergent damages wool fibres and the hot temperature burns the softness of sheepskin. The result will be firm corse sheepskin that will be very uncomfortable to wear once again, so please avoid this crucial error.
Excessive moisture will almost certainly ruin your ugg boots - and that's exactly what we're trying to avoid here. Instead us this method when your uggs need a wash:
Use a cold, damp, clean cloth to gently rub the outside of the boots.



Spray our 

Cleaning Spray & Detergent

 to the ugg boots and use damp sponge to rub the outside of the boots.



Clean off the detergent with another damp cloth (make sure all water is wrung out - too much water will cause stains!)



Let them dry naturally in shade and not directly in the sun.
#3. Create a barrier of defence
To keep your ugg boots looking fresh throughout the rain season, you need to create a barrier of defence against the elements.
After cleaning your ugg boots, treat them with Oil & Water Repellent spray. Spray until your ugg boots look wet but are not soaked and then leave to dry in a ventilated area.
#3. Brush that dirty of you UGG
Rather than giving your ugg boots a complete clean, you can simply use a suede brush to brush out any imperfections your uggs might have over time, like minor scratch marks or light spills of food or liquid.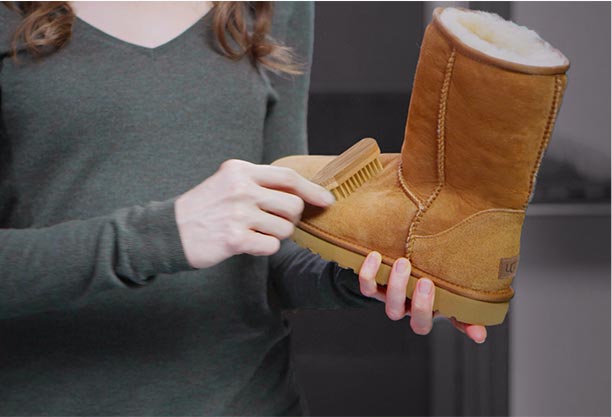 Plus, for a little extra protection, give them a quick spray before leaving the house every now and then. This will help maintain this barrier of defence, help waterproofing uggs, and keep your ugg boots protected against wind, rain and scuffs.
Since Shearer UGG is a UGG factory, we don't stock protection items but you can purchase them from our leading retailers outlets to purchase these protection items listed in this blog.


Hope you stay dry this season!